An In-depth Look At Elegant Themes For WordPress

Are you new to website design and looking for the best, quality and attractive, but aligned theme to use on your new website? Or have you been in the game for a long time, but you still haven't found that special theme that you could call "The One"? Hmmm, or maybe you think you've found one, and just to quickly realize that the theme club you're interested in joining or the theme structure you want to buy costs hundreds of dollars. Yes! I know how you feel, it sucks…. I've been there, but don't worry; I found one for us, "Elegant Themes". I'm sure you will be happy to come here today, especially when it is not easy to find high quality original WordPress themes as it is today.
Again worry no more, a lot is about to change for you.
Let's get into some more serious revelation. We will be taking an in-depth look at the WordPress theme store called Elegant Themes. They offer some exceptionally premium themes and more to that, some useful plug-ins like Monarch and Bloom, which are designed to help website owners build beautiful, high-converting sites that can aid you in generating lots of followers and lots of money.
I can already feel your excitement, so let's give you even more information;
Elegant Themes For New Developers
If you happen to be a new developer, believe me when I say this "I have you in my heart when publishing this article", ET customers have several methods to obtain the necessary support. The panel offers separate links to install themes or plug-ins, using their most important resources and the complete documentation for each product.
If you need specific help with an ET theme or plugin, you should check the dedicated forum. You'll find separate topics for Divi, Extra, Divi Builder, Bloom, Monarch and other items. There are already hundreds of forum topics created by customers. You can search these topics to find quick answers to your questions or create a new topic to ask new questions.
Stylish Theme Features
ElegantThemes offers some incredible features. It is quite a difficult task to cover all of its resources in a single post. So for now, let's take a quick look at some important features.
     • Absolutely responsive design: As you might expect, all Elegant Themes products comes with a fully responsive interface. They use CSS media queries and other advanced techniques to ensure that your website looks great at all screen sizes and resolutions.
     • Enhanced customization options: This enhanced theme options panel offers a convenient way to manage the style of your WordPress site. Make use the dynamic customizer to change the font, color, background, header, footer, menu, widgets, and so on. You can check previews in real time as you make changes.
     • Customized access codes: All ET themes are provided with a wide variety of customized access codes. You can use these access codes to add various elements such as buttons, tabs, alternators, columns, quote, CTA, tooltips, drop cap, etc. to your posts and pages.
     • Multi-page templates: you will have access to several professionally designed page templates. They will be very useful to create the necessary pages like blog, contact, about us, gallery, login, search, site map, etc.
     • Valid and safe coding: all ET products have professional coding that follows the industry's best practices. As a result, you can be sure that your website will offer a superior browsing experience for your visitors. What's more, your website will also be protected from common security threats.
     • Fully localized: most ET themes are fully localized to help you create multilingual websites for your international audience. The latest themes are also provided with translation files for common languages.
     • Compatible with multiple browsers: visitors are highly likely to use different browsers to access your site. By using ET themes and plug-ins, you can be sure that your website will work perfectly in all modern browsers.
And now, let's talk about your visual construction capabilities.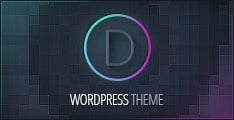 The Major Theme of Elegant Themes, 'DIVI'
Is unrivaled in terms of features, visual website creator,  conversion options and design.
It has been downloaded more than 2 million times in total. At the moment, it also feeds 1,170,426 sites alone in 2019.
From e-commerce, lifestyle blogs, official company websites and more, Divi was created to meet the expectations of all types of design needs.
Elegant Themes made the Divi theme their pride and joy in 2013. Since then, -Divi has literally been the dream of web designers and developers everywhere, as it is comprehensive, integrated and easy to use in WordPress.
Using the Divi theme comes with its own set of incredible advantages. There are hundreds of free design elements, vectors and other exclusive options to allow you to fully customize your website's interface. Also, imagine more than 40 slider templates, call-to-action (CTA), galleries, forms, testimonials, and more content that you can use to expand your site.
Let's get into the details. Exactly how does downloading Elegant Themes work in your favor?
1. Personalization and efficiency
Let's say you have little time to build, organize and edit everything from scratch. In an instant, Divi displays hundreds of complete, predefined web layouts that you can import immediately. Just start adding your own text and branding – you have an entire website like that! Remember how we mentioned that Elegant Themes is a total miracle for beginners?
The Divi interface was created to be the perfect first-time theme for WordPress beginners. Since it operates on a 'drag and drop' basis as with Divi Builder, there is no coding knowledge involved. Speaking of which, the Divi Plugin is a total feat in itself. If you are already using another WordPress theme on your website, it is still an option to use the power of Divi Builder. Divi Builder is a plugin that allows you to use an 'drag and drop' editing process to easily add new design elements, templates and edit other modules. No coding knowledge involved; a total victory for WordPress beginners.
So it doesn't really matter if you are working with, say, an OceanWP or Astra theme at the moment. Divi Builder is not intended to replace your existing theme! It is a standalone third-party plug-in that wants to make editing much easier. You can still customize your pages and content without worrying about messing up your layout. In fact, full editing becomes a much faster experience – with comp editing.
2. E-commerce skills
Divi maintains simplicity when it comes to e-commerce. If you already own a Woo-commerce website, Divi basically just allows you to integrate the two and start selling all your products instantly. There is really nothing extra about Divi's e-commerce skills. However, the basics of editing product pages, animating listings and other Woo-commerce features are at stake – but Divi doesn't see the need to add other sophisticated options on top of what's already included.
3. Managing your website
If you are a web designer or freelance developer – Divi wants to make the process of changing permissions and access easier. For example, you can allow customers to edit text and font styles – but limit what they can do with other aspects of design on the web page. You can even fully maximize the controls; blocking permissions for your customers to edit, delete or add other design elements if desired. All of this was made possible in the new version of Divi 4.0 – which works well if you don't want customers to accidentally erase their hard work or mess up an existing layout.
Conclusion
So, is Elegant Themes worth the money and the hype?
There is a reason why ET has more than four hundred thousand customers now. The reason is that they provide tremendous value for your money. The annual plan offers unlimited access to all themes, plug-ins and support for the price of a single theme. But it is the lifetime plan that brings the best value, where you have unlimited access to everything for life.
Disclaimer: If you've read this far and are still interested in signing up for Elegant Themes, we have a referral link you may choose to use. We are an affiliate partner of Elegant Themes and receive commissions from referrals. Use our link below to support Elegant Themes & ARC Digital Creative.
Dive in to Elegant Themes Here
If you enjoyed this post subscribe to our newsletter for more posts and resourceful links